MMVP – Mobile Marine Vacuum Pump,
Suction of liquid waste from vessels, so-called MMVP (Mobile Marine Vacuum Pumps) is performed by a mobile vacuum pump (underpressure pump) in a simple, quick and professional manner. It is designed for marines, small ports and shipyards, as well as for dry marines, facing the everlasting problem of suctioning liquid waste from vessels.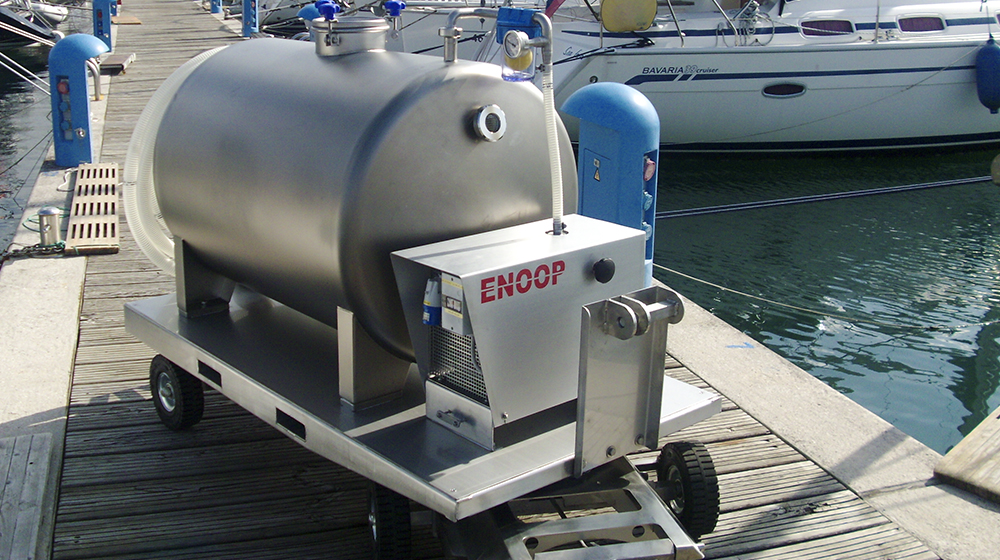 LIMIT PLUS Ltd. is making and offering a mobile vacuum pump that is the only one in the world completely made of stainless steel ( INOX AISI 316 ).
This completely eliminates the possibility of rust due to corrosion from derivatives and salinity.
Liquid waste suction is based on vacuum technology (underpressure) and the tank volume is 350 or 500 liters.
Operating mode:
The mode of operation is very simple, liquid waste is sucked directly to MMVP tank by underpressure (vacuum).
Discharging of liquid waste from the MMVP tank is performed on basis of the pressure intentionally accumulated for discharging liquid waste to sewage or into the cesspool.
Such the system of suctioning and discharging liquid waste provides that both operations are performed without the transit of the liquid waste through the pump, but directly to the tank, i.e. from the tank.
This surely provides an advantage for the reliability and durability of the pump. Therefore, there are no maintenance expenses.
The trailer of the MMVP unit is equipped with a mechanical braking system on front wheels for safety reasons, which provides stopping of the unit at any moment, especially when discharging at marine docks, i.e. during discharging. Braking is performed by lifting the movable beam.
The beam also has the possibility of vertical and horizontal moving, which is very important in case of towing over rough terrain.
Monitoring of the operational phase is provided by: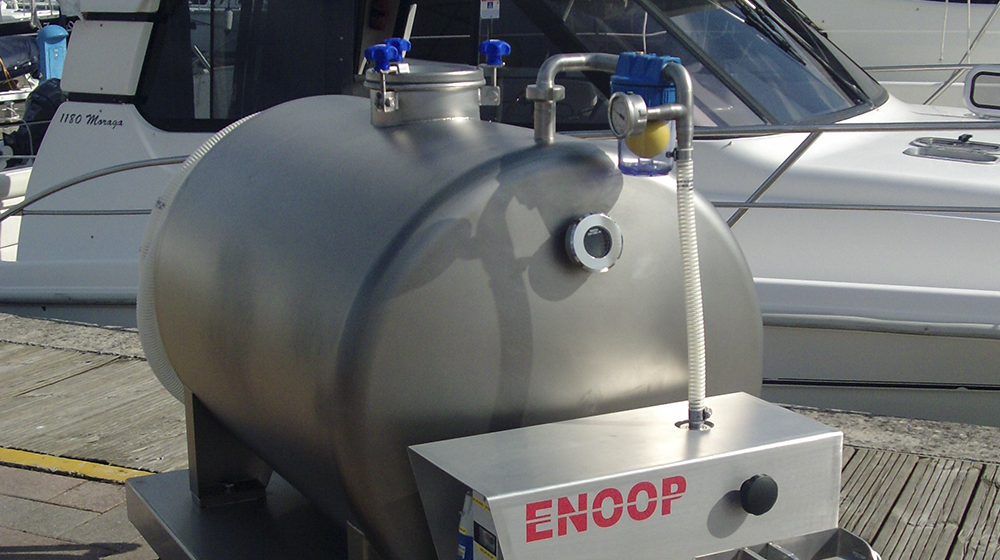 MMVP unit is equipped with an external manometer for monitoring of underpressure in the tank,
glass window for visual control of the level of liquid waste,
a safety valve that prevents overfilling.
Technical characteristics: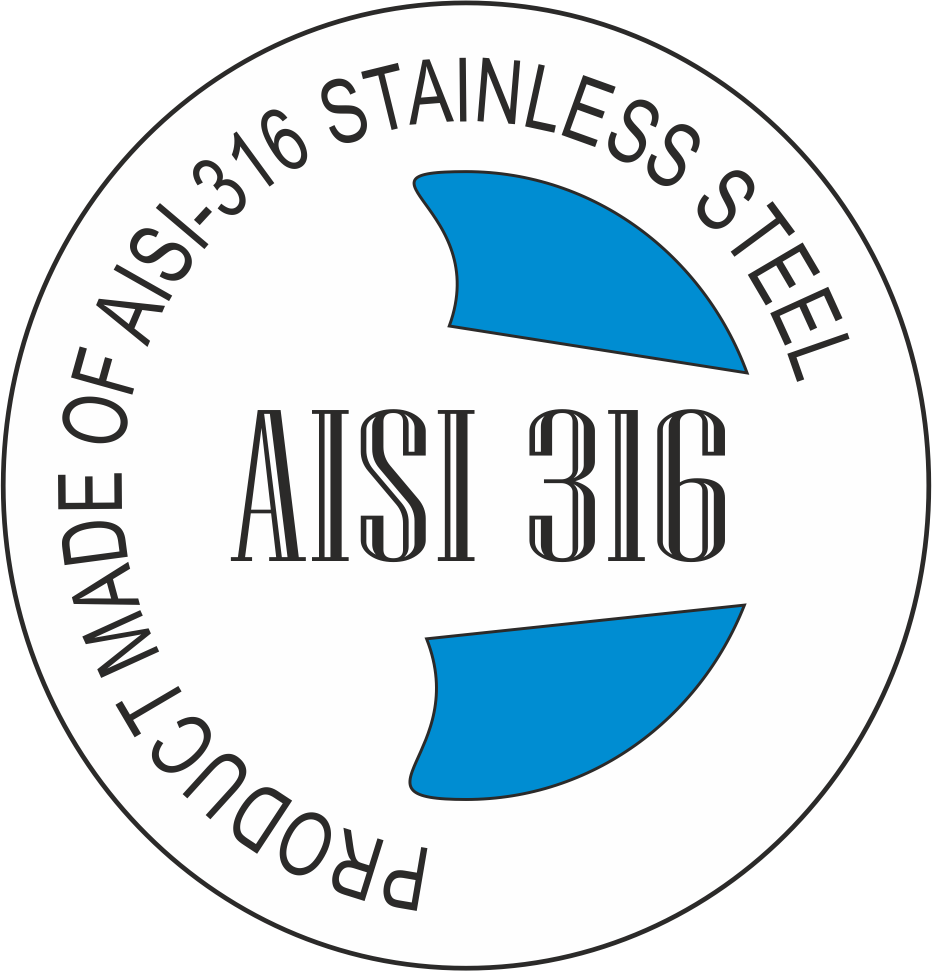 tank of unit made of stainless steel AISI 316,
350 or 500 liters volume of tank,
Diameter of flexible pipe is 40 mm,
Power of vacuum pump is 0,55 kW (220V),
Pump capacity 16 m3/h,
Operating underpressure -0,6 bar,
Brakes on front wheels,
Length of flexible pipe is 7 m,
Weight of empty MMVP unit is 311 Kg.
NEWS FOR NAUTICAL SEASON 2022
LIMIT PLUS d.o.o. – Koper, producer and distributor presents you a
MMVP (Mobile Marine Vacuum Pumps) – mobile vacuum pump on trailer with electric drive.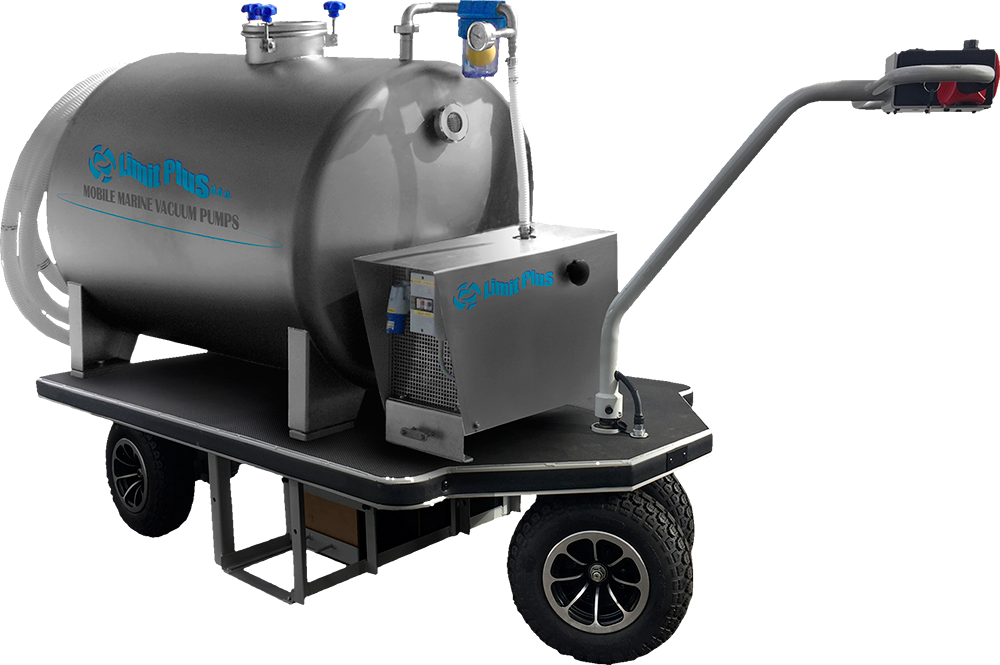 Technical data for electrical trailer:
Length including pole 2,135 mm,
Width 900 mm,
Height 1000 mm,
Area on which MMVP pump is located 1600 x 900 mm,
Electric drive 36 V,
Accu batteries 3 x 12 V /70 Ah (using without charging up to 6 hours, charging of batteries lasts up to 8 hours),
Power 800 W,
Steering CURTIS,
Maximal speed with full load up to 6 km/h,
Automatic brakes,
Driving in both directions,
Operational steering on the pole informs about battery capacity,
Capacity 800 kg,
Pneumatic tires 4.10/3.5-6, aluminium rims,
Trailer with full load (up to 800 kg) stands the ascent up to 15%.
Optional equipment:
Hard PVC cover,

Electrical vehicle ALWAYZ with built-in hitch ball for towing MMVP unit

.